CandyTX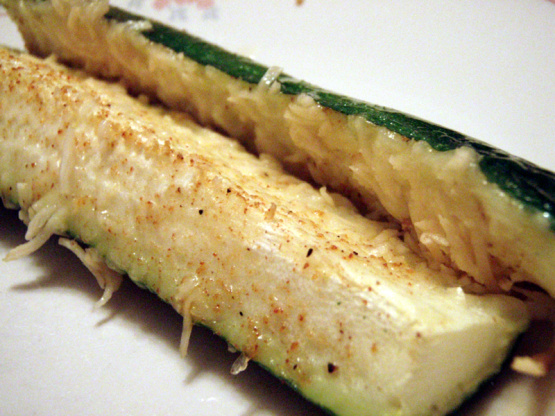 My husband dislikes zucchini, but even he gladly eats his servings of this at dinner!

Delish! Next time I will mix the parmesan with some garlic powder and fresh ground pepper, spray the zucchini with pan spray and dredge them in the mixture. This first time around there was more parmesan on the pan than on the zucchini! Thanks for an easy and yummy side dish!
Preheat the oven to 350 degrees F.
Clean the medium (or large-ish, if you like your squash as I do!) zucchinis well, cut the ends off, and slice them lengthwise into quarters so that you have eight pieces.
Coat the bottom of a baking dish with the olive oil and place the zucchini pieces in the dish.
Sprinkle with the seasoning salt (I sometimes lightly spray the zucchini with pan spray before sprinkling on the seasoning salt), then with the Parmesan cheese.
Place uncovered in the oven and bake for 20 minutes on 350 degrees F.
Serve two pieces to each person as a side dish, and enjoy!