Parmesan Stuffed Tomatoes
Zurie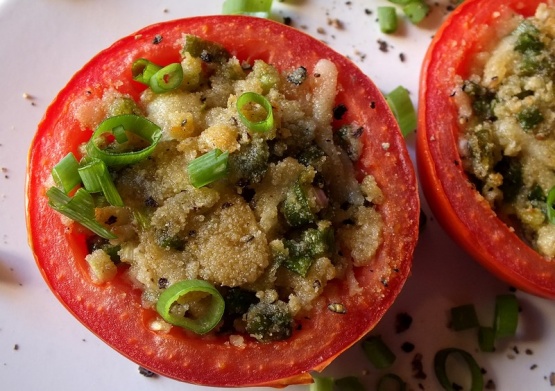 Top Review by JoAnn
We really enjoyed these stuffed tomatoes. I had Italian Seasoned bread crumbs so I used those. All the flavors worked together well and the additon of chopped onions gave it a nice crunch. Instead of cutting tomatoes in half I sliced a top of the top, scooped out insides and filled with mixture.
Combine bread crumbs with Parmesan, parsley, chives, tarragon, and pepper.
Mix onion, seasoned bread crumbs, and melted butter.
Cut tomatoes in half (horizontally) and seed them.
Fill with bread crumbs and bake in buttered baking dish for about ten minutes at 350 degrees.
Starting with room temperature tomatoes reduces cooking time and helps assure a firm tomato is served to guests.