Parmesan Stuffed Mushrooms
Lvs2Cook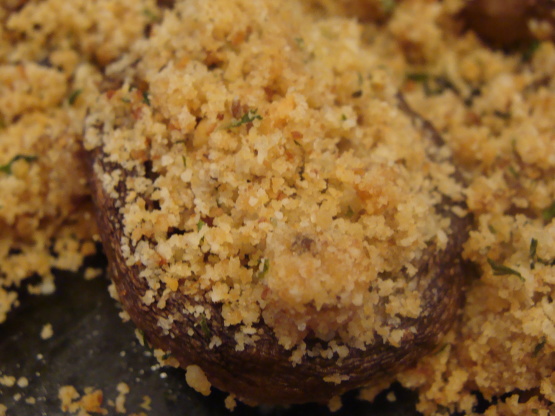 Easy and delicious! This makes enough stuffing for about 24-30 mushrooms. If you only want to make 12, make only half the stuffing.
I think the hardest thing about this recipe was finely chopping the mushroom stems haha Incredibly easy and mighty difficult to make a mistake. Would definitely love to try it with chopped bacon bits next time! My girlfriend also put some red chili flakes on hers for a little kick. Thanks for sharing!
Remove stems from mushroom caps and chop.
Cook in 1 tablespoons butter until liquid is evaporated.
Combine cooked stems with remaining ingredients except olive oil. Add 2 tablespoons of oil. If needed, add remaining olive oil.
Dip cap in melted butter and stuff with Parmesan mixture.
Arrange in a baking dish.
Bake in a preheated 350º oven.
Bake for 20 minutes or until golden.