Redsie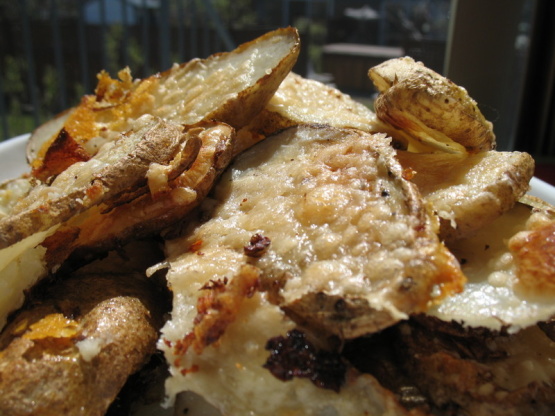 From Everyday Food. This is a great way to do fries without the added fat of oil. I added the cheese only at the last 10 minutes, when the potatoes were almost done. We were four, I doubled the recipe... and the potatoes were almost all gone... :)!

OK, first of all...I'm a little freaked out. I am separately reviewing two recipes I made tonight, neither of which I originally found on Zaar (they came from two different magazines) - and Redsie happened to post them both!! Anyway, these were delicious and SO easy. The only change I made was to use garlic salt instead of coarse salt. My whole family raved! And, by the way, try them with the Apricot Turkey Burgers!! :-) Thanks again Redsie!
Preheat oven to 425 degrees.
In a wide, shallow bowl, whisk egg whites with salt until frothy. Cut each potato into 6 long spears. Add to egg whites and turn to coat.
Lift spears out of egg whites, shaking off excess. Sprinkle with cheese until coated. Place on a parchment-lined baking sheet.
Bake without turning until potatoes are fork-tender and golden brown, about 30 minutes. Season to taste.