This idea was the result of a comment on my parmesan crisp recipe stating that they liked to drape the crisp over a coffee cup while still hot to make a little bowl. I was about to prepare dinner, so I thought I would try it. This is a delicious way to serve anything that would taste good with parmesan cheese in or on it.
Directions
Preheat broiler with rack on the middle shelf.
Place parchment paper to cover broiler pan.
Lightly spray with vegetable cooking spray.
Place 4 ounces of the grated parmesan in the center of the pan.
Flatten the Parmesan out into a circle about 1/4 inch thick.
Sprinkle with dried red sweet pepper.
Broil 3 minutes.
Remove from oven and slip paper onto a cooking rack.
Prepare pan with a second sheet of parchment paper.
Prepare remaining parmesan and cook as before.
Meanwhile, remove parmesan from the first paper and drape over an inverted cereal bowl and let cool ten minutes or more.
Repeat this process for the second batch.
Makes two very pretty bowls.
Most Helpful
Brilliant idea, and so easy! I can also imagine making small parmesan bowls and serving a poached egg and something light like finely sliced lettuce in it. Great recipe, thanks Larry!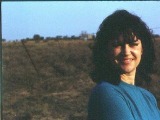 Awesome! Was the perfect Parm Bowl for a bed of Romaine, drizzled in a homemade Caesar dressing! VERY fancy, but VERY easy!

I have tried this with chedder cheese and made taco salads with it when doing the South Beach diet, parmesan would be great with a caesar salad inside. Thanks for the great recipe.