Chippie1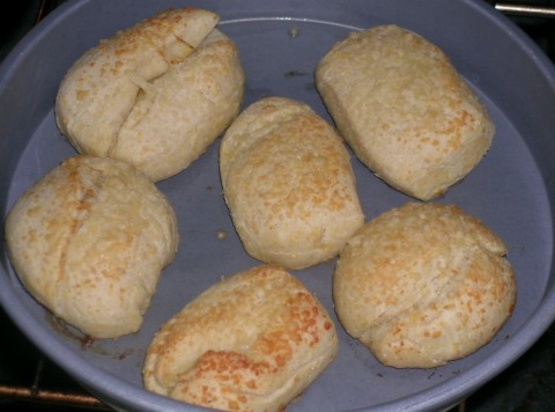 I serve these rolls with spaghetti and meatballs, to give us a change from the usual garlic bread. However, they would be good with other main entrees as well. (Prep time includes letting the dough rise)

These were very good and very different. The crunch that that the cornmeal gives is great. The whole family enjoyed these. The only thing that I changed was throwing in a bit of garlic. I had enough left over that I froze them and will be having the rest later in the week. Thanks for a real keeper.
In a large mixing bowl, dissolve yeast in water.
Add milk, Parmesan cheese, butter, sugar, salt, cornmeal and eggs; mix well.
Add 3 cups of flour and beat until smooth.
Add enough remaining flour to form a soft dough.
Turn onto a floured board; kneed until smooth and elastic, about 6 to 8 minutes.
Place in a bowl coated with olive oil, turning once to coat tops.
Cover and let rise in a warm place until doubled in size, about one hour.
Punch down dough.
Shape into 24 oval loafs.
Place the rolls on a baking sheet and brush the tops of each roll with melted butter.
Sprinkle the rolls with grated Parmesan cheese.
Cover and let rise until doubled, about 30 minutes.
Preheat oven to 375 degrees F.
Bake for 20-25 minutes or until golden brown.
Remove from baking sheet and cool on wire racks.