Parmesan-Roasted Sweet Potato Skins
loof751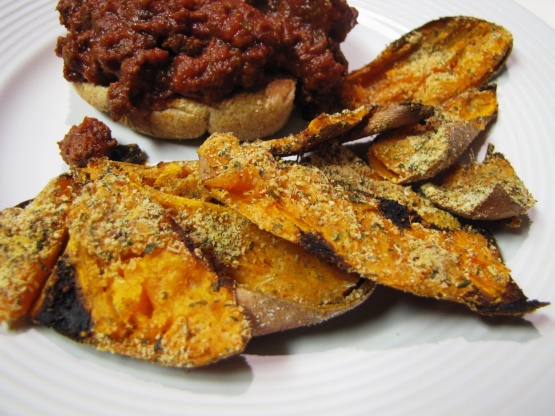 This recipe is from the 1995 publication, The Simply Healthy Lowfat Cookbook.

Very different! I've never made anything like this before, next time I would cut them bigger and I think maybe serve with a dip. This time however, they were made as a vegetable side-dish and we really enjoyed them. I baked the sweet potatoes earlier in the day, and prepared the wedges shortly before our meal was ready, so I found this to be a good make-ahead recipe. Really good, I'll make these again. Thanks Syd! Made for Aus/NZ swap#30
Preheat oven to 400 degrees F.
Prick the sweet potatoes with a fork, then place them on a baking sheet & bake for about 35-45 minutes or until they are tender but not mushy, then remove them from the oven & set them on a wire rack to cool, while increasing the oven temperature to broil.
In a medium bowl, combine the Parmesan cheese, parsley, garlic, oregano, rosemary, salt & ground pepper.
When potatoes are cool enough to handle, halve them lengthwise & scoop the flesh out of the skins, leaving a shell from 1/4-inch to 1/2-inch thick. Cut each sweet potato shell lengthwise into 1/2-inch-wide wedges.
Add the skins to the herbed Parmesan mixture & gently toss to combine.
Place the sweet potato wedges on a baking sheet & broil from 4 to 5 inches from the heat for 4 to 6 minutes, or until the cheese is melted & bubbly.
Serve hot & ENJOY!