Parmesan Roasted Green Beans
Boomette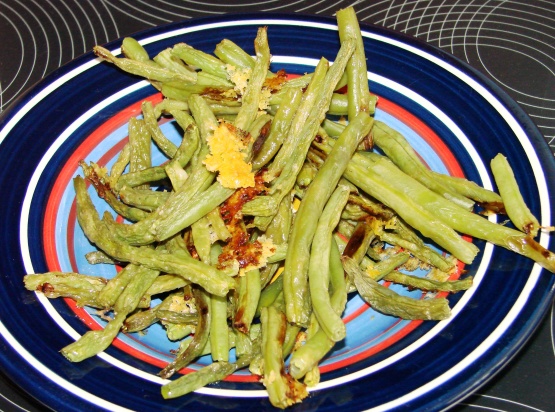 This is a fast, easy and absolutely delicious way to make green beans. Saw it on the Food Network a while ago and it comes out perfect every time. Adjust cooking time and amount of cheese based on your personal preferences. After you've tried green beans, do the same exact recipe with asparagus or broccoli. My kids devour all 3 veggies so I always make more than we need and there aren't ever any leftovers.
Preheat oven to 425 degrees.
Spread beans out evenly on a non-stick cookie sheet, doesn't have to be a single layer.
Drizzle lightly with extra virgin olive oil.
Sprinkle lightly with salt & pepper (optional).
Spread shredded parmesan evenly over beans.
Bake on center oven rack for 12 minutes.
Beans will be roasted and cheese will be melted, chewy and crunchy where it laid on the pan.