Parmesan-Roasted Broccoli(Ina Garten)
loof751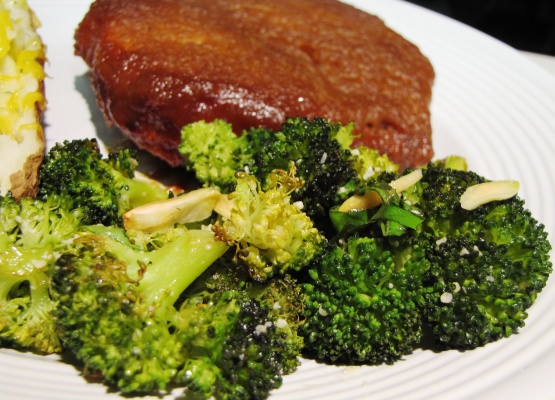 Roasting the broccoli with garlic and Parmesan gives this dish great flavor. You may cut all the stem off the broccoli but I like to leave a little on. You may also peel the stems, cut them in julienne strips and use them too, if you wish. Adapted from the ABC news program. From Ina Gartens new book Back to Basics(Barefoot Contessa).

So wonderful! Ina's recipe calls for roasting at 425 degrees. It gives the broccoli a nice, slightly burnt but great taste. I usually make this with out the basil and pine nuts, and load it up with Parmesan. LOVE this recipe.
Cut the broccoli florets from the thick stalks, leaving an inch or two of stalk attached to the florets, discarding the rest of the stalks.
Cut the larger pieces through the base of the head with a small knife, pulling the florets apart. You should have about 8 cups of florets.
Place the broccoli florets on a sheet pan large enough to hold them in a single layer.
Toss the garlic over the broccoli and drizzle with 5 tablespoons of the olive oil. Sprinkle with the salt and pepper.
Roast at 400*F. (Ina originaly baked at 425*) for 20 to 25 minutes, until crisp-tender and the tips of some of the florets are browned.
Serve and enjoy!
Remove the broccoli from the oven and immediately toss with 11/2 tablespoons olive oil, the lemon zest, lemon juice, pine nuts, Parmesan, and basil. Serve hot.