Parmesan Risotto Stuffed Portabellas
Chippie1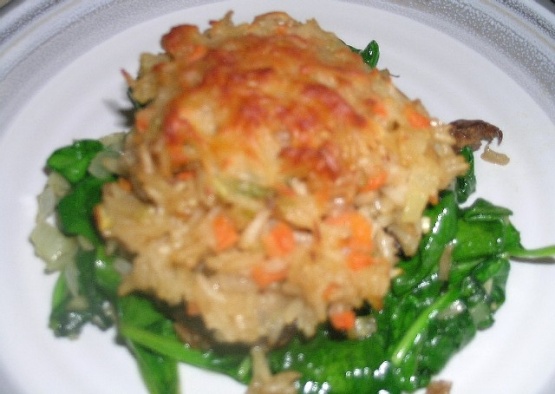 This is an easy, light recipe. The risotto is great on its own, too! I can't remember for sure, but I think I got this recipe from Cooking Light.

I would give the concept of this recipe 5 stars, but because I made so many changes, I don't think it is fair to rate. I made a box of parmesan risotto per direction on the box and skipped right through step 11. Using smaller mushroom caps, I baked them in a 350 oven for about 15 minutes, removed them added 1/4 cup of risotto to each and topped with a slice of fresh mozzarella. I then baked them for 15 more minutes until the cheese melted. I did make the spinach as directed adding about 1/8 cup of chopped procuitto to the pan with the onion & garlic. Fabulous roasted flavor. This adaptation made it a simple side dish when making a labor intensive main dish.
Bring broth and water to a simmer in a medium saucepan (do not boil).
Turn heat to low and keep warm.
Preheat oven to 375.
Heat 2 tsp oil in a large saucepan over medium-high heat.
Add onion, celery, carrot; sauté for 1 minute.
Add rice and sauté for 5 minutes.
Stir in wine and stir constantly 5 minutes or until liquid is nearly absorbed.
Add 1/2 cup of broth.
When liquid is nearly absorbed, add another ½ cup of broth.
Continue until all broth is added and rice is tender.
Remove from heat and stir in Parmesan cheese and green onions.
Remove stems from mushroom caps (if necessary) and discard.
Place the caps, gill (bottom) side up, in a 13x9 baking dish.
Spoon 1 ¼ cups of the risotto mix into each cap and top with 1 tbsp mozzarella cheese.
Pour ½ c water into the bottom of the baking dish.
Bake at 375 for 30 minutes or until tender.
Heat 1 teaspoons.
olive oil in a large pan over medium-high heat until hot.
Add chopped onion and garlic; sauté until tender.
Add spinach; sauté 2 minutes or until wilted.
Arrange ½ c spinach on each plate and place the mushroomcaps on top to serve.