Parmesan Potatoes With Jalapeño Jelly
Derf2440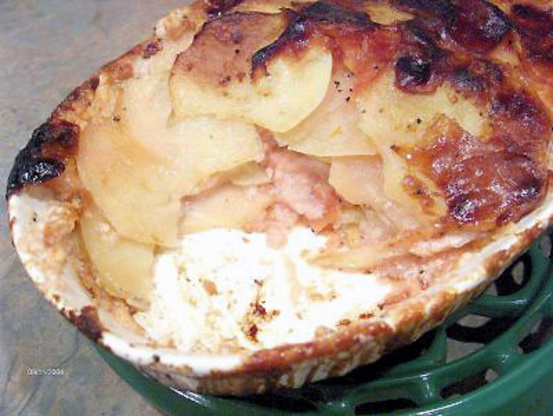 A delicious sliced potato casserole with a hint of jalapeño, a tasty side dish for two.

I prepared this using leftover mashed potatoes, since the potatoes were prepared using just milk, butter, salt and pepper. All I did was microwave the potatoes, add Parmesan cheese and a dollop of red Jalapeno Pepper Jelly, stir it up and served it. I did not measure, just eyeballed the ingredients. I did not use the full amount of pepper jelly, I would guess I only used 2 tblsps. DH and I enjoyed these!
Preheat oven to 350°F.
Grease small oven proof gratin dish with 1 teaspoon butter.
Cover bottom of dish with potato slices overlapping.
Sprinkle with salt and fresh ground pepper to taste.
Dot with jalapeño jelly, dot with butter.
With a veggie peeler, top layers with thin slices of Parmesan to cover.
Repeat layers, to fill the dish, ending with Parmesan slices.
Pour milk or cream gently over all so that it comes within a quarter inch of the top of the dish.
Bake on middle rack in 350°F oven for 45 minutes to an hour, or until potatoes are tender and top is well browned.