Hey Jude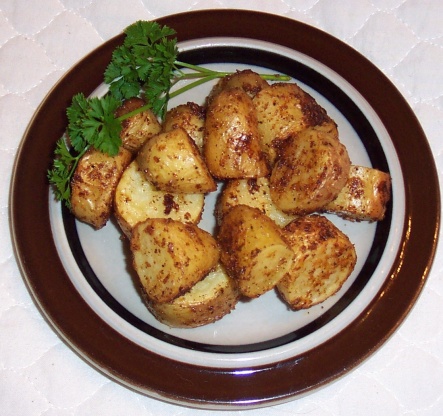 These seasoned potatoes taste even better than french fries. And they are much healthier too!

These potatoes were very tasty. I think the heat is a little too high on this recipe though....the parmesan was getting too brown before the potatoes were cooked and so, after about 15 minutes at 450, I lowered the oven to 375 for the rest of the cooking time (about 20 minutes) and they were fine. I used fingerling potatoes cut crosswise into 1/2 to 3/4-inch size chunks. Also, after coating the potatoes with oil in the plastic bag, I dumped them in the baking pan and added the seasonings there so that I wouldn't leave half the seasonings in the plastic bag. Very good! Thanks Cathy, I'll be doing this one again for sure.
Preheat oven to 450 degrees.
Cut potatoes into small chunks.
Place potato chunks in a plastic bag with the oil, and shake well to coat potatoes evenly.
Mix seasonings together and add to potatoes.
Shake to coat.
Spray a baking pan with non-stick cooking spray.
Arrange potatoes in a single layer in the baking pan.
Bake for 30-35 minutes or until golden brown, turning potatoes once during this time.