Marlene.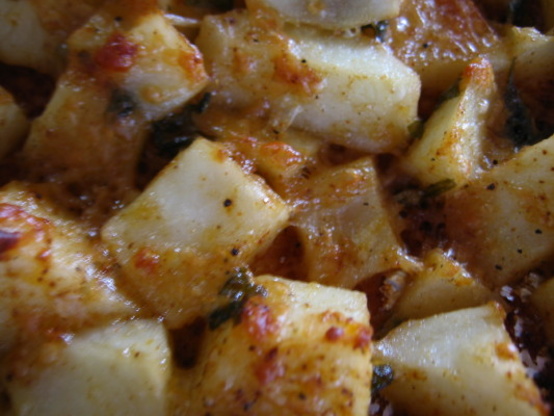 Easy side dish. Great alternative to fries.

These were really good. I love potatoes made this way and these seasonings were good. I kept the peel on because I like the way it gets crispy in the oven. I used 4 medium potatoes, 1/3 cup parmesan, 1 Tbsp. parsley, and skipped the garlic powder because i minced up a small hot pepper instead. Added the cayenne and paprika and forgot the salt, which was okay because the parmesan is salty. Will definitely make again. Thanks Keolani! :D
Preheat ove to 450.
Line cookie sheet with foil and spray with cooking spray.
Toss potatoes with oil. Mix all other ingredients in a small bowl.
Add to potatoes and toss to coat.
Spread over cookie sheet in a single layer.
Bake 25 minutes until lightly browned.