From "Mr. Food Cooks Like Mama"
Directions
Preheat oven to broil.
Cut each pita into 6 pie slice-shaped triangles.
Separate each triangle into 2 triangles and place on a cookie sheet.
Brush each pita triangle with butter; sprinkle with garlic powder and parmesan cheese.
Broil for 1-2 minutes until cheese is bubbly and lightly browned.
Serve warm.
Most Helpful
Delicious! Nice crunchy pita chips, perfect for eating on their own or dipping in hummus. Thanks for sharing the recipe!

Excellent pita snack! The directions were perfect and the pita triangles came out crisp and flavorful. The combination of garlic and parmesan cheese was wonderful (I did use a bit more than called for with both of these ingredients). I used these to dip into a garlic hummus and it was sooooo good!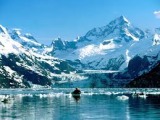 I'm a big fan of pita bread, and always have some on hand in the freezer.
This recipe was perfect for me, I loved the garlic and cheese on top and have been snacking on them instead of crisps, which is much healthier and I have actually enjoyed it more!
We've used them as pre-dinner snacks, and for nibbles with drinks too!
I have even thrown them into the oven for a few minutes to crisp up rather than the grill as I already had it on, and they came out great.
Thanks AZ..for a simple and versatile recipe.
Made as a THANK YOU for tagging in PRMR during the recent TIC-TAC-TOE event.