Parmesan Pesto Potato Soup
Marlene.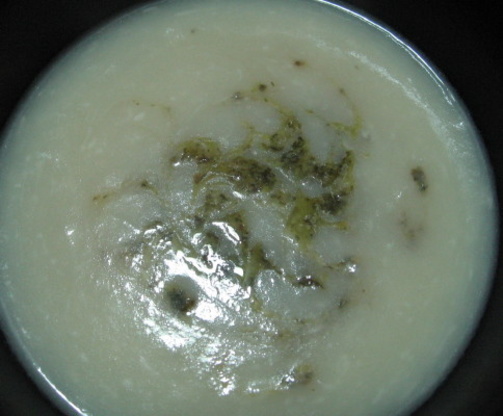 As published in the winter 2007 edition of Raley's Something Extra magazine.
This is very good. A quick lunch or dinner for myself .. The addition of the pesto is what made this soup for me :) It IS somewhat , like eating very very thin mashed potatoes , but for whatever reason, that doesn't bother me! LOL I will definitely make this again ! Thanks for posting the recipe! :)
Stir together potato flakes, stock and half & half in a medium saucepan and bring to boil.
Reduce heat and simmer for 5 minutes, stirring occasionally.
Stir in Parmesan cheese and simmer for 5 minutes more.
Season to taste with salt and pepper.
Ladle into bowls and swirl 1tsp of pesto into each bowl.