Madson7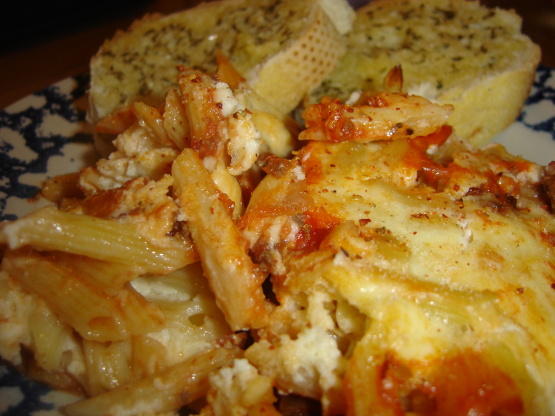 Unbelievably scrumptious!!

This is a delicious casserole which reminds me of the Greek dish pastitsio. I made this exactly as the recipe indicates and served it with garlic bread and a salad- very yummy! My two sons, who were over for diner, "mopped" their plates clean with the bread to get the last delicios bite!This is one that I will definitly make again- great cold weather comfort food!Thanks for posting this, NurseDi!
In a skillet, cook beef and onion until meat is browned; drain.
Stir in tomato sauce, 1/3 cup Parmesan cheese, allspice, salt and pepper.
Bring to a boil.
Reduce heat; simmer, uncovered, for 15 minutes.
In a saucepan, melt 1/4 cup butter.
Stir in flour until smooth.
Gradually add milk; bring to a boil; cook and stir for 2 minutes or until thickened and bubbly.
Stir in 1/3 cup Parmesan cheese.
Remove from heat.
Add eggs; whisk until smooth.
In a bowl, combine pasta and remaining Parmesan cheese.
Melt remaining butter; add to pasta and toss to coat.
Spread 1/3 of meat mixture in a greased 13x9 inch casserole dish.
Layer with half of the pasta, 1/3 of meat mixture, and half of the white sauce; repeat.
Bake, uncovered, at 350 degrees for 40-45 minutes or until thoroughly heated and bubbly.