flower7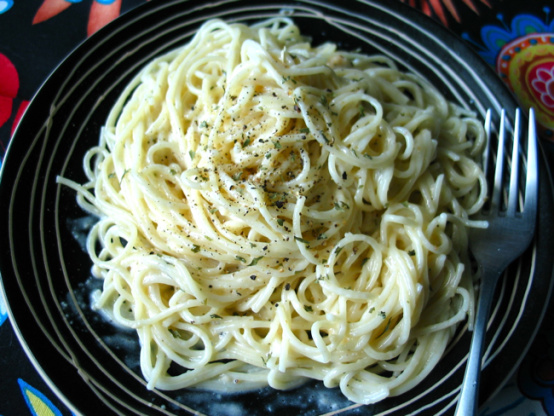 I used to love the boxed side dish "Noodle Roni Parmesano." I hadn't seen it in store shelves for quite some time, so I played around until I came up with something close to it. As it is just me and my DS at home these days, I intentionally developed the recipe as a side dish for two (or a main course for one!) Although I haven't tried it, I would imagine the recipe would double easily enough.

Just reminding you that actual Noodle Roni Parmesano from the 70s and 80s used both parmesan and romano cheese, and small flat egg noodles, not round angel hair. The angel hair is part of the change to Pasta Roni Parmesan, which also lacks the Romano cheese that made the name Parmesano.
Cook noodles al dente and drain.
In the empty noodle pan, melt butter and stir in the parmesan until melted and well-blended.
Add garlic powder, salt, pepper, and parsley; stir to blend.
Stir in the cream; continue stirring until blended and smooth.
Return noodles to pan and stir/toss to coat noodles with parmesan mixture.
YUM!