Parmesan Mustard Chops With Apricot and Jalapeno Sauce
flower7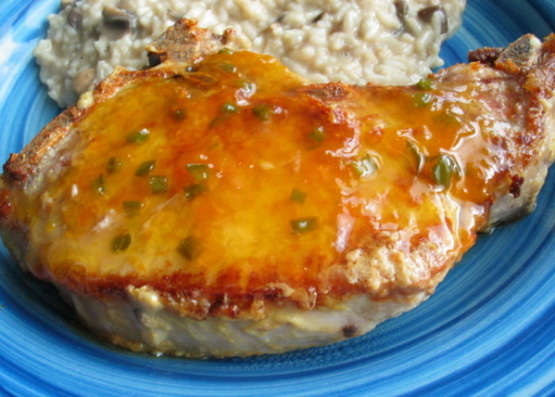 Delicious and Low Carb! Unbelievable flavor, and very quick and easy. Not too bad on the pocket book either!!

While the end result of this recipe tasted good, I had real problems with the cooking method. I ended up with a pan, covered with a layer of caramelized cheese and chops with no cheese on them whatsoever. I don't know if a non-stick skillet would make a difference here but I suppose it's worth a try (I used a stainless steel skillet). The apricot sauce is what saved this recipe for me, though I'm glad I only made 2 chops. I also cut the amounts for the sauce by a quarter (rather than by half) and it was plenty of sauce for my taste. Thanks!
Rub chops evenly with mustard.
Cover each side of the chop LIBERALLY with Parmesan cheese.
Put olive oil in large heated skillet.
Cook pork chops 10-15 minutes or until juices run clear.
In bowl mix all ingredients together.
Heat in microwave or on stove top just to heat through. Around 3-5 minutes.
You can pour sauce over chops or serve on the side for dipping.