chia2160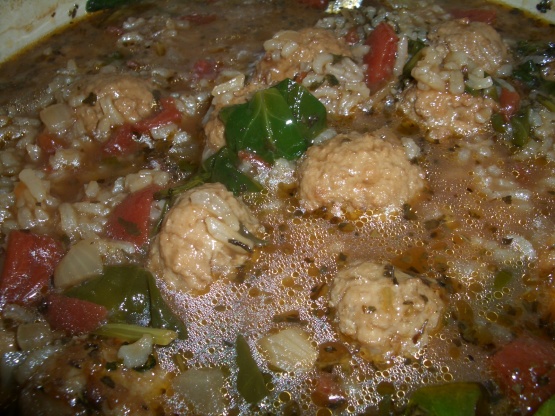 Thank goodness, Kittencal posted her Parmesan Meatball recipe. It's outstanding!!With her permission,I've adopted her recipe to use in a variety of ways-here's another. Soup with your fav crusty bread for dipping! Can be made in the crock pot for easy prep.
Meatballs:.
Mix all meatball ingredients together.
Form into marble-sized meatballs. Refrigerate until ready to use.
Soup:.
In a extra large saucepan or stock pot over medium heat, heat olive oil.
Add onion and sauté until tender and translucent, about 5 minutes.
Increase heat to HIGH and add diced tomatoes, broth, Parsley, and seasonings; and bring to a boil.
Reduce heat to LOW and simmer for 15 minutes.
Remove meatballs from refrigerator; gently slip each into soup mixture and simmer over MED-LOW heat until meatballs are cooked through, about 25 minutes.
Increase temp to MED-HIGH; add rice; cook for about 15 minutes; then add spinach and continue cooking for another 3-4 minutes.
Remove from heat.
Check and adjust seasonings.
To serve:.
Ladle into warmed bowls and garnish with Parsley sprigs and a sprinkle of shredded Mozzarella Cheese.