Parmesan Meat Patty Casserole
Pam-I-Am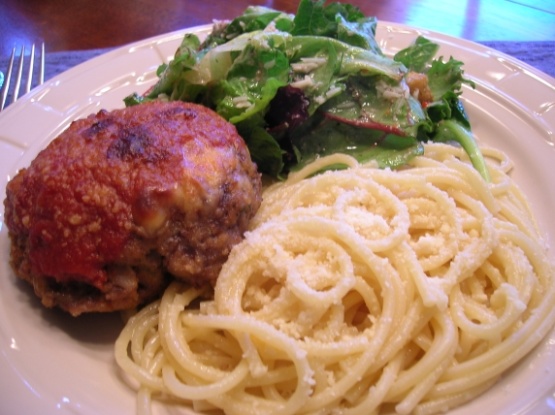 Kind of like chicken parmesan -- only with hamburger. This calls for the "green can" cheese, but I'm sure you can substitute the real thing. Recipe doesn't specify whether to cover or not while baking. I start out uncovered and cover towards the end, if it starts getting too brown.

Top Review by StacyW
My family really enjoyed this recipe. I made them for my freezer, doing it two different ways. The first batch I formed into patties, put in my baking dish with the sauce on top and froze it pan and all. I didn't want to tie up my other dish for the second batch, so this one I made the patties, flash froze, then put in the freezer with no sauce. At serving time, we added the sauce and cheese on top. Both worked out well and there was very little leftovers.
Shape ground chuck into 4 patties, dip in flour, then in beaten egg, then in bread crumbs.
Brown in oil until light golden brown.
Place in casserole dish.
Place mozzarella cheese on top of patties.
Pour tomato sauce over cheese.
Sprinkle with oregano and top with enough parmesan cheese to lightly cover the top.
Bake at 350F for 40 minutes.