Hey Jude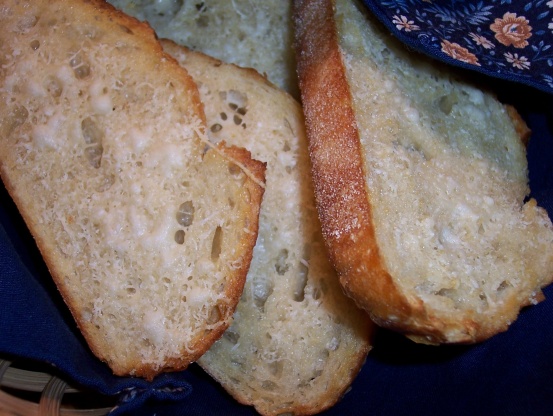 This is a super simple, tasty variation of crostini. I found this in the Chicago Tribune and love how fast I can whip it up to go along with a quick, after work, soup or stew.

This is so easy and delicious! Earlier in the day I prepared it as the directions stated up to where you put the cheese on it. Then right before dinner I put the cheese on and popped it in the oven for a few minutes until the cheese melted. Hey Jude thanks for sharing this simple reacipe!
Heat oven to 400°.
Brush one side of each slice of bread with the olive oil; toast in the oven until lightly golden, about 5 minutes; remove from oven and rub the cut side of garlic on the oiled sides of slices; sprinkle with cheese.
Return to oven; bake until cheese melts, about 5 minutes.