Parmesan-Garlic Chicken Strips
KPD123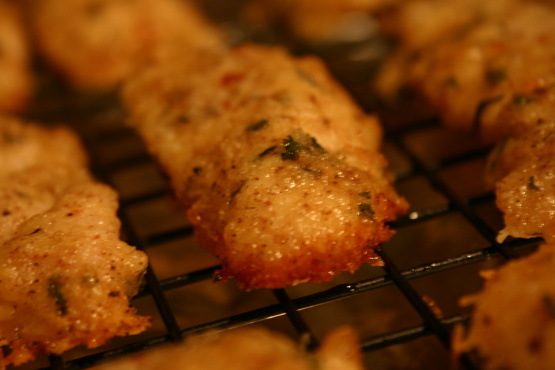 Flavorful way to do baked chicken. It's simple and fool-proof. I serve with marinara sauce for dipping (I just buy jarred sauce because it's easy)! I sometimes make strips, and sometimes I cut into bite-sized chunks or even just leave the breasts whole. Anyway is delish! Enjoy!
In a large bowl, mix the first 4 ingredients.
Moisten chicken by rinsing with water.
Add chicken to bowl and toss to coat well.
Place chicken on a foil-lined baking sheet.
Bake 15-20 minutes at 400 degrees or until chicken is cooked and juices run clear.
Serve with marinara sauce, ranch, or your favorite dipping sauce!