teresas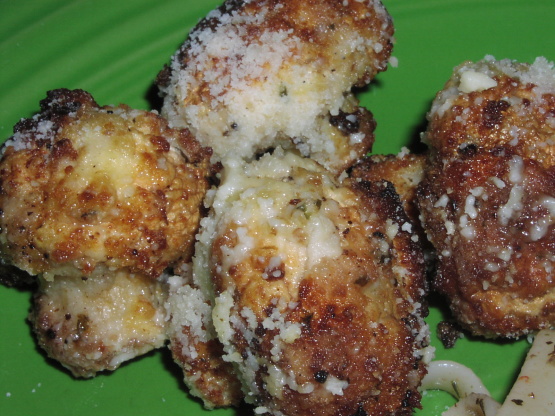 I have inherited my grandma's recipe box.... I have been going through and reviewing them and decided to begin sharing them with you all... Some of these were passed to her from her mother, and some she had cut out of magazines or newspapers and placed in her box.... Clipped from an old newspaper from 1936.... Not sure what paper....

I had a handful of baby bella's left in the crisper drawer so I tagged this recipe for DH and they were wonderful! Mushrooms are not a favorite of mine but I enjoyed them too. Used italian seasoned breadcrumbs and a parmesan blend shredded cheese. Very easy and quick to make! Served them as a side dish with corn on the cob and a rump roast marinated with Sydney Mike's Recipe #305802. Made and reviewed for the 123 Tag Game.
Wash mushrooms and trim stems to 1/4 inches.
Place flour on a sheet of waxed paper.
Place breadcrumbs on second sheet of waxed paper.
Mix egg and milk together in bowl.
Roll mushrooms in flour to coat lightly.
Dip mushrooms in egg mixture and roll in bread crumbs.
Drop a few mushrooms at a time in hot oil (375) in electric skillet of deep fryer.
Fry until golden brown, about 1/2 minute on each side.
Drain on paper towels.
Dip in Parmesan cheese while warm.