SharonChen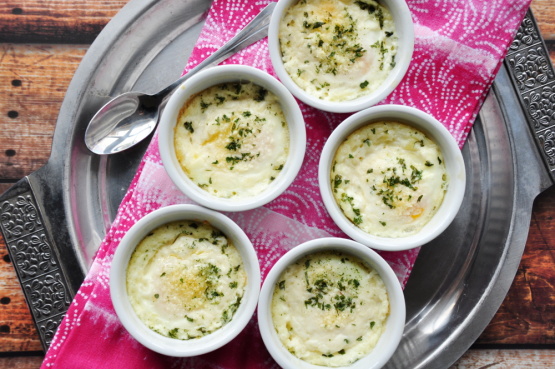 Simple, easy to prepare, different, and good. From the Belle de Jour Inn in Healdsburg, CA. We like this with toasted Italian bread for breakfast.

We liked these, but they were no where near done in 15 minutes. They went 30 minutes, at least. Instead of butter, I sprayed the ramekin with oil and cut the Parmesan in half. I put dried minced onions on mine and they turned out really good. As another reviewer stated, 2 T of cheese would be way too much. 1 T was plenty.
Preheat oven to 350°F.
Butter an individual ramekin, then dust with 1 tablespoon of cheese.
Break egg into ramekin and cover with cream.
Sprinkle with remaining cheese.
Bake 10 to 15 minutes, until white is set.
Serve hot in ramekin.