SharonChen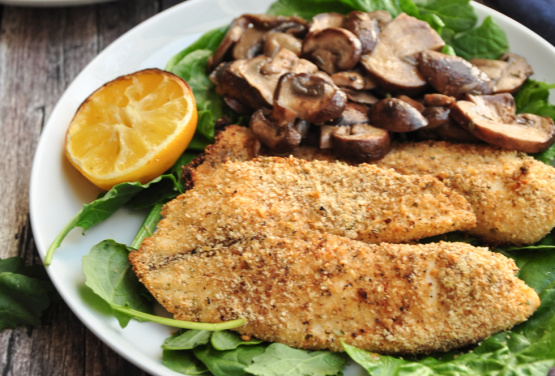 Fast, Easy and Healthy! This recipe is for 2, but I have easily doubled it for more. This bakes so quickly that I often make a bunch of these fillets and eat them leftover for lunches.

This is a party on the palate!! I've made this 3 times now, and it just gets better and better each time! I've taken a couple of the other suggestions when I tried it different times. I added the olive oil to the bread crumbs/parmesan mixture and also broiled it for about 2 minutes at the end to make it a little crispier. Thank you for a tasty and healthy recipe!
Thaw and wash tilapia fillets if frozen. Pat dry on paper towels.
Combine crumbs, parmesan, italian seasoning and garlic powder on a plate, mixing well.
On a different plate, pour 1 tbsp lemon juice.
Working 1 at a time, place a fillet on the plate in the lemon juice, sprinkle with desired amount of kosher salt (be careful about how much salt is in your parmesan, crumbs, and other seasonings), black pepper, and garlic powder. Turn the fillet over in the lemon juice and sprinkle seasoning on the other side.
Dredge fillet in the parmesan mixture patting it all over to coat.
Place in an oiled baking dish, repeat with remaining fillets.
Sprinkle a little lemon juice over fillets and drizzle or spray them lightly with olive oil.
Bake at 425ºF for about 20 minutes or until they easily flake with a fork and edges are browning (you can sprinkle some more parmesan on top if desired). You can also bake these faster at 450ºF.