Parmesan-Crusted Grilled Cheese Sandwich
Diana 2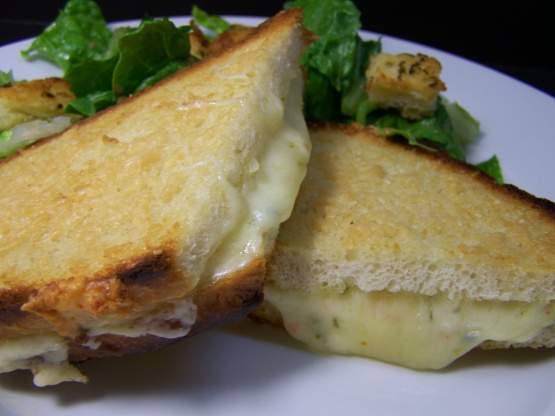 a recipe by Mitch Omer, owner, Hell's Kitchen

I was having one of those 'There is nothing to eat in the house' times. I did however have a ton of cheese so decided to give this sandwich a whirl. I had to swap out the swiss cheese in favor of Havarti but otherwise made as directed. I just lied. I forgot to let it stand for a few minutes and may have 2nd degree burns on the fingers that the cheese oozed out on to. It was totally worth the pain. This is probably the very best grilled cheese sandwich I have ever had in my life. You have to make this folks!!! Do let it sit for a couple of minutes though :)
Spread out bread slices and spread each with about 1 T butter.
Sprinkle parmesan cheese on each slice and press firmly into bread.
Melt 1/2 stick butter and pour half into large skillet preheated on medium-high.
Place 4 of the bread slices in skillet, parmesan-crusted side down.
Arrange 1 slice each of the 3 cheeses on each bread slice and grill undisturbed about 7 minutes. Cheese slices should begin to soften.
Flip sandwich slices and grill briefly on other side, then set aside.
Wipe skillet, add remaining melted butter and repeat with remaining bread with cheeses.
Assemble sandwiches and let sit 3-5 minutes before serving.