Parmesan-Crusted Chicken With Arugula Salad
Prep 15 mins
Cook 15 mins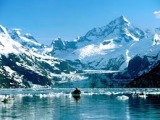 This offering, originally from Food & Wine, is an easy weeknight meal. I love it for it's simplicity. Even though it is quick and easy, there is still great flavor due to the dijon, fresh thyme and parmesan. I love the lightly dressed salad which you can pile underneath each serving of chicken. If you like more dressing for your salad, by all means mix up a little extra!
Directions
Preheat the oven to 475 degrees.
In a small bowl, whisk 2 teaspoons of the mustard with 2 teaspoons of the olive oil and the thyme.
Season the chicken breasts, on both sides, with salt and pepper - then brush them all over with the mustard mixture.
Pat about 2 T. of the parmesan on EACH chicken breast (both sides) - it should take about 1/2 Cup total for all 4 breasts.
Transfer the chicken breasts to a rimmed baking sheet (I line mine with alum. foil sprayed with just a touch of Pam - for easy release and clean-up).
Bake the chicken on the top shelf of the oven for about 15 minutes, or until just cooked through and nicely browned.
Meanwhile, in a salad bowl, combine the remaining 1 teaspoon each of mustard and oil; then stir in the water.
Add the arugula (or spring mix lettuce) and tomatoes. Season with salt and pepper and toss well.
Spoon the salad onto plates, top with the chicken and serve!
Reviews
Most Helpful
Very good: a great way to add a lot of flavour to chicken without having to marinate for hours! I used aged Gouda instead of Parmesan but otherwise followed the recipe. Really liked the simple salad dressing (and will definitely try it with other salads too!) - I wouldn't overdo the dressing with arugula, as arugula itself has a sharp, mustardy flavour: just a touch of the dressing was just right for me here! Thank you for sharing!

The chicken was delicious; I served mine over spinach as that is what I had on-hand. I wasn't a huge fan of the dressing as-written and ended up adding honey to mine to make a honey-mustard dressing. Other than that, I'd make this again.
Very easy and delicious. I used a spring mix instead of arugula and made more dressing. I served it with a rice pilaf and it made a very nice dinner!

Get Healthy Your Way