Parmesan Crusted Broiled Scallops
Dawnab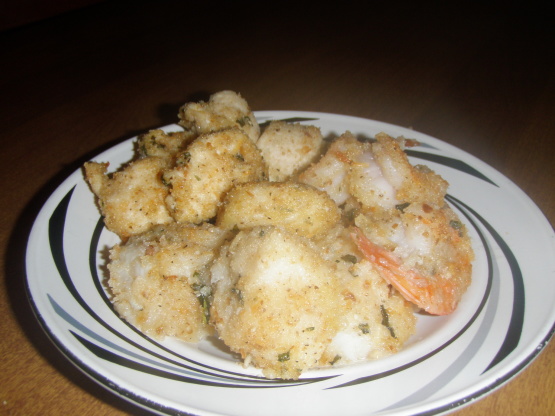 Crusty scallops--excellent! From Cooking Light.

Top Review by Kay D.
Great stuff! I gave all the scallops a healthy spritz of fresh lemon juice before doing anything else with them, I do that with almost all fish or seafood before cooking it, just a little quirk I have. We also used Italian seasoned breadcrumbs instead of the Melba toast. Other than that, the recipe was made as directed, and we thought it was quite scrumptious, even 3 year old La Princessa ate all of hers. Thanks! :)
Place the broiler pan on the second rack position to keep the scallops from burning.
Combine the first 4 ingredients and 1/4 teaspoon black pepper in a large ziploc plastic bag.
Brush scallops with butter.
Add scallops to bag, seal and shake to coat.
Place scallops on a broiler pan coated with cooking spray.
Broil 10 minutes or until done.
Serve with lemon wedges.