Parmesan Chicken With Pasta Rags
Jennygal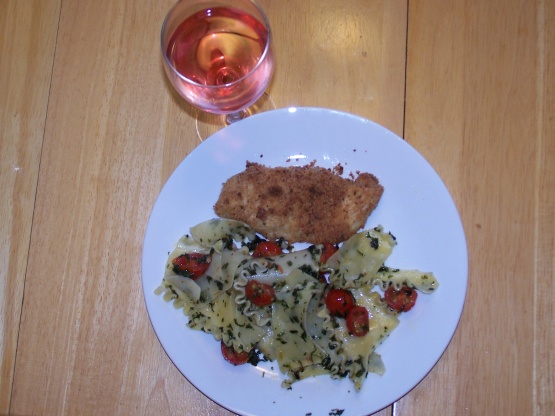 This is a great one-dish meal that my family loves. It's also a good way to use up broken lasagne noodles. I clipped this from a magazine some time ago, I forgot which one.

Actually found this one on the pillsbury website as it used progresso breadcrumbs. Anyway I thought it sounded like the perfect thing to make for company, and it was! Very easy and really tasty. What I loved most was the presentation, it looks beautiful when plated. Served with a salad and garlic bread..yum!
Chicken:.
Heat oven to 475°.
Combine garlic, seasoned salt, 3 tablespoons olive oil and the butter; microwave on high 1 minute, or till butter is melted; mix well.
Combine bread crumbs and grated cheese; mix well; coat chicken breasts with the garlic mixture then coat with the crumb mixture; place in an ungreased 15x10x1-inch baking pan and bake for 20 minutes or till chicken is fork-tender and juices run clear.
Pasta:.
Cook broken lasagna noodles to desired doneness as directed on package; drain and cover to keep warm.
Heat 1/4 cup olive oil in a large skillet over medium-high heat until hot; add 1 garlic clove, cook and stir for 1 minute; add spinach and 1/2 teaspoon seasoned salt; mix well and cook 2-3 minutes or till spinach is cooked, stirring frequently.
Add cooked noodles, tomatoes and chopped basil; cook 1-2 minutes or until thoroughly heated, stirring occasionally.
Serve pasta mixture with chicken and garnish with shaved Parmesan cheese.