gailanng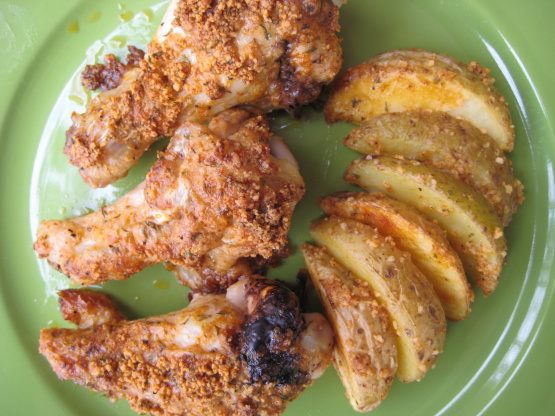 Another military wife I know shared this delicious recipe with me. Sherry originally found this recipe in an issue of Taste of Home. This is my adaptation of her version. I always have a bag of frozen wings in the freezer for last minute guests and this recipe is great for using them, since no thawing is required.

This was a super easy recipe and they turned out scrumptious! Loved the taste and the fact I could make them from frozen! Very convenient for company or a late night snack! Thank you so much for posting!
Combine first 6 ingredients (cheese through pepper).
Set the melted butter in a bowl and dip the chicken wing pieces first into the butter, then into the cheese mixture to coat.
Set on a foil lined baking sheet with edges.
Bake in a preheated oven at 350 F for about 45 minutes or until fully cooked.
NOTE: To use raw chicken wings- you will need about 2 pounds of whole fresh wings, cut into 3 pieces each and discarding the wing tips.