Lainey39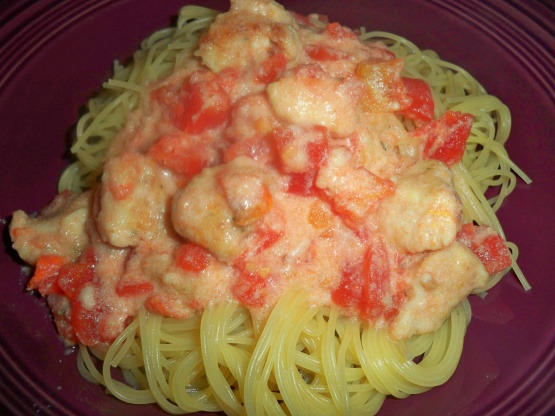 This is a really quick and tasty supper. All you'll need to add is a nice bread and wine.

Hi Inez; Made your Parmesan Chicken Skillet last night and it was delicious, simple and easy to make. I used 1 chicken breast and 10 chicken wings and WOW!! The sauce was exceptionally good. I substituted and used RIGATONI. The sauce lined the inside of the rigatoni, EXCELLENT. Thank you for posting your recipe. Oh yes, served ROSSO GRANDE red wine that I make. "Uncle Bill"
Toss chicken pieces with flour, italian seasoning, salt and pepper.
Heat 2 T butter in large skillet.
Add chicken and stir-fry to a golden brown.
Remove chicken and keep warm.
To skillet add half and half, peas and tomato.
Cook and stir for 2 minutes.
Add parmesan cheese.
Add 1 T butter.
Return chicken to skillet.
Toss with pasta.