Parmesan Chicken Breasts With Lemon (no Tomatoes!)
Barb G.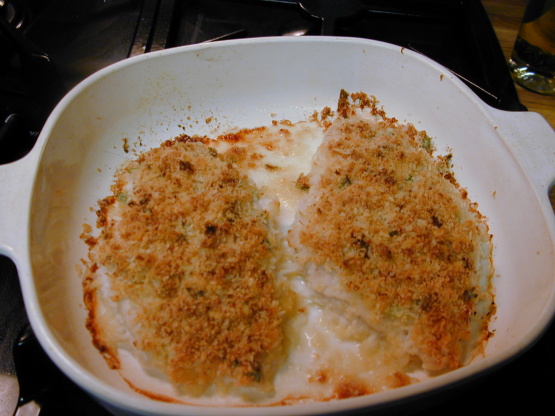 There are tons of chicken parmesan recipes on 'zaar but this one is different: no tomatoes or marinara sauce. Instead, the parmesan is complemented by the freshness of lemon zest and juice. I strongly recommend using PANKO breadcrumbs if you can, they will stay crunchy after the baking. If your chicken breasts are on the large side, or you simply want more of the parmesan flavor, you can double the topping mixture portion of the recipe. PLEASE NOTE the handy 'zaar feature for converting metric to US equivalents ;)

Top Review by PanNan
This recipe was easy, quick, and delicious! I used chicken tenders, but otherwise followed the recipe exactly. DH loves spicy, so next time I might use a little cayenne pepper instead of the black pepper, or add some minced hot peppers from the garden. Thanks for sharing your recipe, FlemishMinx.
Pre-heat oven to 190°C.
Mix together the breadcrumbs, cheese, onion, lemon zest, butter, salt and pepper.
Place the chicken breasts (pretty side up) in a lightly greased oven-proof baking dish (or spray dish with non-stick spray).
Salt and pepper breasts as desired.
Divide the topping mixture between the chicken, cover them as evenly as possible and press the mixture down with a fork.
Bake approximately 20 minutes, or until the chicken is done (juices run clear); remove them from the baking dish to plates.
Add the lemon juice to the baking dish and mix with the pan dishes; return to the oven (briefly).
Sprinkle the chicken with the parsley.
Remove the baking dish from the oven, stir the juices again then pour over the breasts and serve.