ImPat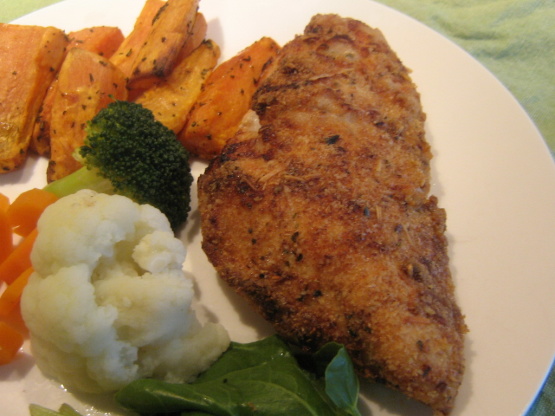 This chicken is delicious.It's a little different than the ordinary Parmesan crusted chicken. I believe I got this from TOH. You can use this as a base for chicken parmesan or cut the chicken into strips for chicken tenders.

Top Review by ImPat
This is one of the best baked crumbed chicken dishes we have had. The skinless breasts were big (350g+ each - 3 of them) and took the 45 miniutes to cook at 175C fan forced oven. I scaled the recipe back to 3 serves and had no butter to drizzle over and used some canola oil spray to assist cooking and they had a lovely crust on top and were moist and flavourome. The DM and I couldn't get through all of ours so the DS has a sandwich for tomorrow and there is still enough for another sandwich - the DM has laid claim to it. I couldn't get italian breadcrums, so used regular dried and put some italian herbs in and then the grated parmesan. Thank you so much Lisa Lou Who for a great recipe.
In a pie plate or shallow bowl combine the butter, mustard, worcestershire sauce, and salt.
In a plastic bag combine the breadcrumbs and Parmesan cheese.
Dip chicken in butter and then shake in crumb mixture.
Place in an ungreased 13x9 baking pan.
Drizzle with any remaining butter mixture.
Bake at 350 for 40-45 minutes or until juices run clear.