Parmesan Chicken and Potato Bake
Boomette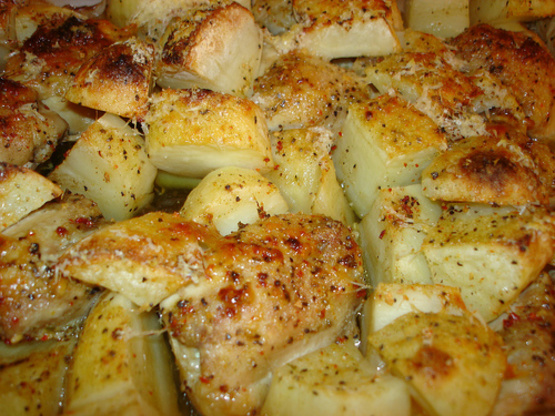 I got this out of the new Kraft What's Cooking magazine. The picture looked wonderful, but the recipe seemed too simple - I didn't really think that it would be all that good. Well, the picture was right - an amazingly good, simple dish. I suggest adding extra potatoes as we fought over them!

I made this with boneless, skinless chicken breasts, which were dry even though they were marinated in the dressing for 30 minutes... so I don't think I recommend using them for this recipe. That being said, these are the BEST potatoes I have ever made or eaten. They were fabulous! I used a big package of fingerlings and about 1/6 of a bottle of dressing, adding big chunks of onion, and some sea salt, garlic powder, red pepper flakes, and a Trader Joe's seasoning mix. After baking the potatoes for 1 hour at 400, I baked them for an additional 30 minutes at 450. That made them extra crispy.
Pre heat oven to 400 degrees.
Cut potatoes into wedges.
Place potatoes and chicken into 9 by 13 pan.
Pour dressing over chicken and potatoes.
Sprinkle parmesan cheese over chicken and potatoes.
Bake for 1 hour, or until chicken is cooked through.