GaylaJ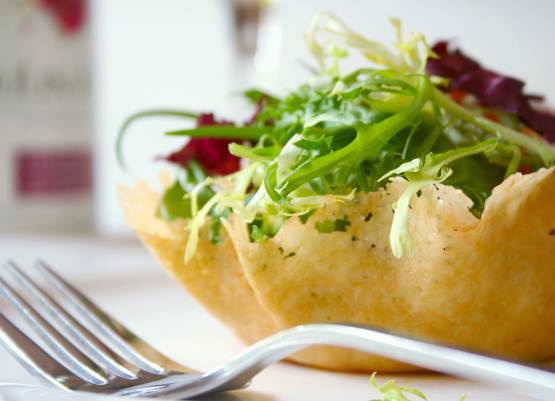 I got this great idea from a magazine my friend got. She told me the basics, I went home and gave it a try. It worked out beautifully. I can only imagine how beautiful the presentation would be using these as salad shells. They have a lacy, delicate look to them.

Top Review by GaylaJ
I love simple ways to create pretty presentations, and this is certainly one. I think I need a little practice, though, as mine could have been a little thinner, which would have made them more "lacy". I had to let the cheese cool in the skillet for a few seconds off the heat before I could slide a spatula under it without messing it up, then I turned it over a ramekin (rather than a drinking glass). I ran across a recipe since I made this one that calls for baking the cheese on a piece of parchment paper in the oven--after letting it cool for a few seconds, you just pick up the parchment, flip it over whatever you are using to mold the baskets, then carefully remove the paper and form the cheese. I may try it that way next time, as I think it could possibly be easier to transfer a thinner layer of cheese. In any case, this is a fun recipe--thanks for posting!
1

cup inexpensive shredded parmesan cheese (more or less, depending on how many baskets you want to make)

1

drinking glass
Heat a 10" skillet over medium-high heat.
Sprinkle cheese (I just used what seemed to look right, didn't really measure) into a disk shape in pan, using less cheese around the edges (helps produce the lacy look).
Allow cheese to get slightly golden underneath, then carefully remove it using a spatula.
Quickly drape cheese disk, golden side up, over an upside-down glass and form into a bowl.
Allow to cool completely.
This produces one basket.
Repeat instructions until you have the number of baskets needed.