Janni402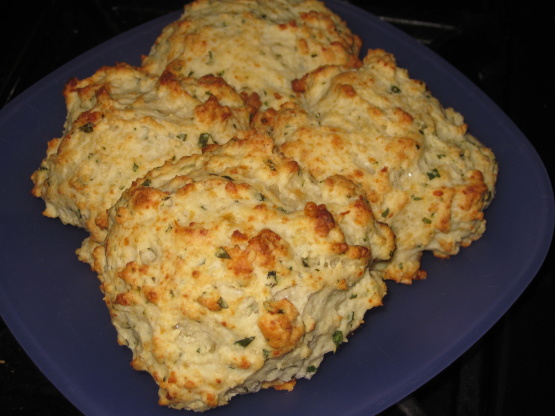 This is another recipe that was in the 2008 Weight Watchers cookbook that I've played around with. These are good leftover toasted.

Nimz- if I could do 10 stars I would! Thjese are great! So easy to put together and fast out of te oven. I scaled the recipe to 1/2 asthere is only DH and I. Perfection! Each bite gave you a bit of the "mmmm mmmmm's" DH is not a huge bread eater and he gobbled 2 of them. Great testament to your recipe. Tonight I am going to try this recipe with cheddar cheese.
Preheat oven to 425 degrees.
Combine flour and next 3 ingredients in a bowl.
Cut in butter with a pastry blender until mixture resembles coarse meal.
Stir in 1/3 cup shredded Parmesan cheese and basil.
Add buttermilk, stirring just until moist.
Spoon dough evenly into 8 mounds on a baking sheet coated with cooking spray.
Lightly coat tops of biscuits with cooking spray (I used a butter flavored spray) and sprinkle with finely shredded Parmesan cheese.
Bake at 425 degrees for 10 to 12 minutes or until golden.
Serve immediately.