Bayhill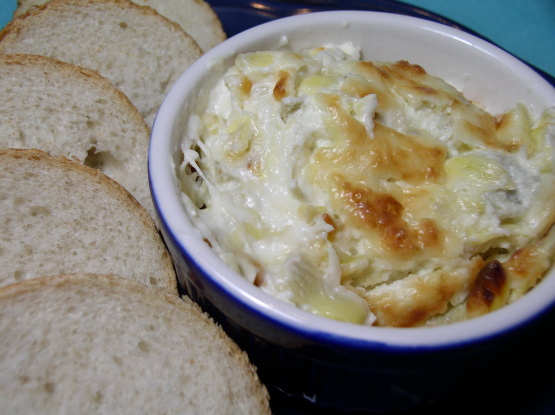 I found this recipe in the "Home By Design" magazine. It was contributed by one of their editors. I've tried others but this is the best I've tried so far. Try it--you won't be disappointed! Serve with sliced bread, pita chips, or fresh veggies.

Definitely at "make again" at my house! I made this for a small get together last night and it was the star of the party. I also halved the ingredients per another reader, added a small sprinkling of dried onion flakes and another sprinkling of parmesan cheese on top along with some paprika for color. I then baked it in a small casserole dish, but added a bit of time to the bake cycle. Delicio! It was great with slices of baguettes, but some guests preferred the dip on fresh vegies. Either way, everyone loved it, even those who don't like cream cheese & mayo. Thanks for sharing1
Preheat oven to 350.
Soften cream cheese in a microwave-safe bowl until spreadable.
Add in remaining ingredients and mix together using a spatula.
Place mixture in a 9 x 13 baking dish and bake for 30 minutes, or until cheese is bubbly.