Parmesan and Thyme Crisps
Luschka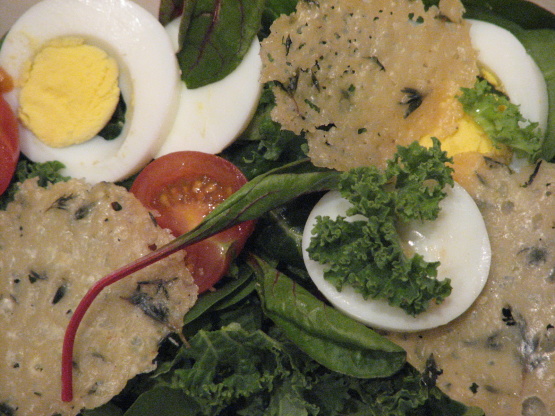 How much easier can you get than just two ingredients? Recipe calls for thyme, but feel free to use whatever herb(s) you like. Amounts can be changed accordingly.

These are lovely. I had to make it twice, as the first time I made it with rosemary fresh from the garden. It tasted good, but I put it on baking parchment and couldn't get it off! So I had to throw it away. I made it again with thyme and used a non stick baking tray and it was really easy, quick and good. Lovely and different addition to a salad. Thanks for sharing! Reviewed for Photo Tag 2008
Preheat oven to 200C/400°F.
Line a large baking tray with parchment paper.
Divide cheese into small heaps on the baking sheet, spaced apart, to make 16 in total.
Sprinkle a bit of your chosen herb(s) over each heap of cheese.
Bake for 4-5 minutes until melted, lacy and golden.
Remove and set aside for 1 minute to firm up a little.
Lay each crisp on a rolling pin to curve it slightly, then cool.
Serve as finger food or along side or as a garnish on creamy soup.