Parmesan and Red Onion Hors D'oeuvres
Ms B.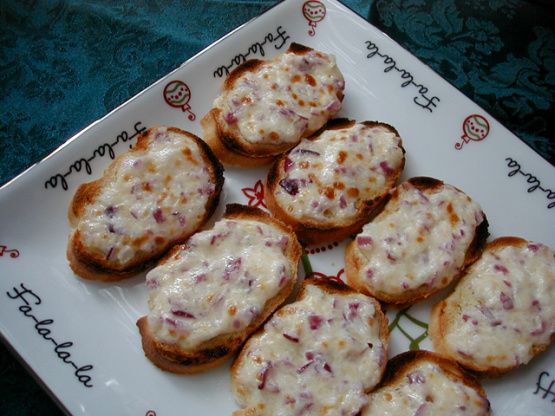 A very easy appetizer. Make as much or as little as you like. I've had this delicious recipe for over 25 years and got it from a caterer.

My dad has made these forever, but we use green onion which I much prefer. I was curious to try this variation, and it was good, but I think the green onion (about the same amount, finely chopped) works better with the parm. It's also imperative to use decent shredded parm, not the canned stuff! But everyone LOVES these. I've even made them with low fat mayo and they're good! Switch up the breads too....yum!!! It's a can't- lose recipe
Mix all three ingredients.
Spread on bite size pieces of toasted bread.
Place under broiler until bubbly and lightly browned(1 or 2 minutes).
You can make more or less of this as needed, just use equal amounts of the ingredients.