Parmesan and Garlic Fries
Lvs2Cook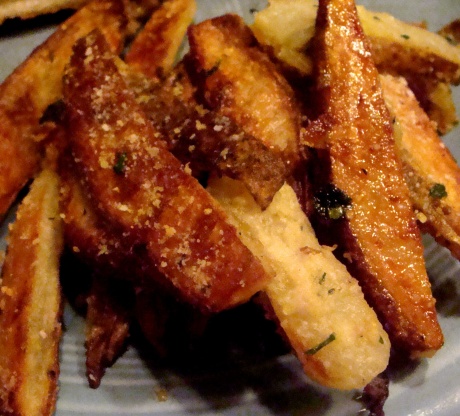 This is my go-to recipe when I want to make oven fries. It's full of flavor and the hardest thing about it is cutting up the potatoes, which you can leave unpeeled to make it even easier.

This was a great recipe. I used regular frozen fries cause I ran out of regular potatoes. To make my fries crispy I buttered the bottom of the cooking sheet and turned fries over half way. also added a cup of cheese instead half a cup. I also added home made hot sauce and it was delicious.
Preheat oven to 425º.
In a large mixing bowl, place the cut potatoes and pour the olive oil over the top.
Sprinkle on the garlic, thyme and seasoned salt. Mix well until the potatoes are evenly coated.
Spread the potatoes on a baking sheet in a single layer.
DO NOT throw away the oil that is left in the bowl.
Bake 30 minutes, turning the fries over halfway through (I didn't do this because I forgot and I don't think it really matters if you do or you don't).
After 30 minutes of baking, return the fries to the bowl with excess oil and sprinkle with the Parmesan cheese and parsley.
Toss to coat and return to baking sheet and bake for another 10 minutes.
If desired, sprinkle fries again with a few shakes of Parmesan and a few shakes of seasoned salt.