Parmesan and Basil Scones
Kim D.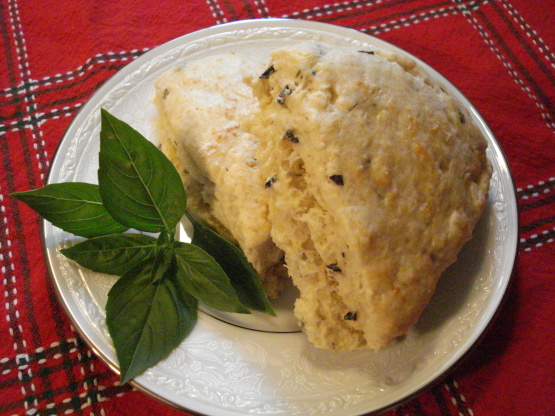 These savory scones make a satisfying accompaniment to soups, or to any meal when you want something a bit more special than an ordinary dinner roll. They are simple to prepare, the recipe can easily be doubled, and they freeze well.

Top Review by Kim D.
Made for the 123 Tag Game. These are delicious! I followed the directions exactly, except that I didn't have self-rising flour. That was no problem, I just added 1 1/4 teaspoon of baking powder to my all-purpose flour and it worked perfectly. The texture of the scones are perfect... soft and tender. I did add just a small sprinkling of fresh Parmesan cheese to each scone before baking. I'll be serving these tonight with soup. Thank you FlemishMinx for posting and I'm really sorry it took so long to leave a review!
Pre-heat oven to 190°C.
In a large bowl, crumble the butter into the flour, working it in with your hand until it is no longer discernible from the flour.
Add the cheese, salt, baking soda, mustard powder and basil, mixing well.
Add the milk, beginning with 120 ml, and then adding a little at a time until you achieve a soft dough that sticks together in a ball in your bowl.
This is normally a bit more than 180 ml in total, but will depend on your flour and the humidity on the day.
Roll the dough out on a lightly floured surface in a square to a thickness of 1 1/2 cm (1/2 inch).
Make three equal horizontal, then vertical cuts resulting in 9 scones.
Place each scone on a non-stick baking sheet, and bake for 12-15 minutes or until they are lightly browned.