Lori Mama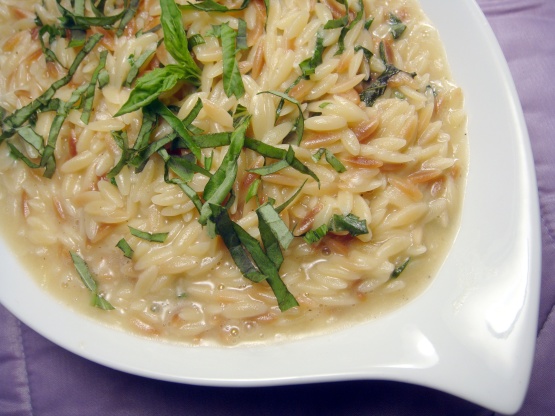 This is a great recipe....tastes great and it is so quick and easy to make! Plus it goes with a wide range of meats, making it a great weeknight side dish. This is from the cookbook "June Fete Fare".

Top Review by Linky
Oh my! This is excellent! Served with hot dogs as a practice for when our DGD comes this summer - this was like a fancy, schmancy mac & cheese - wink, wink! So easy, so tasty. Thanks, Breezer. Hope things are starting to get better for you!
Saute the orzo in butter in a large skillet over medium-high heat, stirring constantly until golden. Add the chicken broth and bring to a boil. Cover, reduce heat, and simmer for 20 minutes or until the orzo is tender and the liquid is absorbed.
Stir in the Parmesan cheese, julienned-sliced basil, and salt and pepper to taste.