CoffeeB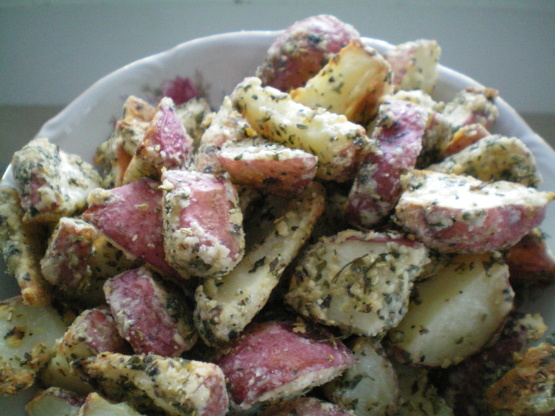 A little different than the other recipes out there. These are great little potatoes and relatively healthy too. I've seen this done with regular potatoes and a melon baller too.

These were o.k....but they needed something. I figured it out when DS said they had too much coating and herb seasonings and not enough saltiness. There was the problem. It needed some S&P. And, I thought the rosemary came thru a bit too strongly. Now, if you like that particular seasoning to come thru loud and clear, this would be your potato dish. I"m glad tagged and made for Phototag~
Peel potatoes, and cut into quarters. Brush with olive oil.
Place remaining ingredients in a plastic bag and mix. Add potatoes to bag; shake to coat.
Arrange in baking pan. Bake at 375 degrees F for 1 hour, turning once.
Remove from oven and sprinkle with a little more Parmesan cheese.