Parisian Chicken and Pasta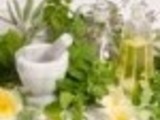 OK It takes a bit of work to prepare but when you taste it you will agree it was well worth it! If you already have tomato sauce at home that is one step less.
Directions
Sauce Veloute: Melt butter and stir in flour,salt and pepper; gradually stir in chicken broth.
Simmer 5 minutes stirring with wire whisk,until thick and smooth.
Simmer 30 minutes stirring occasionally.
Tomato Sauce: Saute onions in oil 5 minutes.
Stir in tomatoes, salt& pepper,bay leaf and thyme.
Simmer 15 minutes; discard bay leaf.
Preheat oven 350*.
Butter a 3 quart casserole.
Saute chicken in 1 Tbsp butter 2-3 minutes.
Season with salt& pepper.
Combine 1/2 c.cream with 1 cup sauce veloute, tabasco sauce & green onions.
Stir into chicken.
Remove from heat.
Melt remaining Tbsp butter and toss with pasta.
Place 1/2 pasta in casserole.
Cover with 1/2 tomato sauce.
Repeat.
Top with 1/2 cup cheese and entire chicken mixture.
Blend remaining 1 cup Sauce Veloute with rest of cream.
Spoon over chicken.
Sprinkle with remaining cheese.
Bake 45 minutes until bubbly and brown.
Note:.
This can be prepared the day before, refrigerated and heated in oven when you are ready to serve it. Enjoy!
Most Helpful
Followed the recipe as written and made six individual casseroles rather than one larger one. The only change I might make in the future is make a bit more of the creamy velvet sauce. Made for ZWT5.
I understand there is a "right" way to make this, and an "easy" way to make this. I have two small kids... I choose, "easy".

I made the veloute sauce. I sauted maybe 15 min. total. I added some Tyson Frozen Grilled Chicken. I then added the cream (or probably 2% milk is more accurate), tabasco, and green onions. I then stirred the pasta in.
I made the tomato sauce... sauted maybe 15 minutes (I made it in the same pot that I had just made the pasta in!).
I then sprayed the pan, added the pasta combo and the tomato combo, gave it a swirly stir, and topped with cheese. Delish (and only 1 pot, 1 pan, and the baking dish) and quick.
Thanks for the recipe!
Okay, don't just stand there in front of the buffet table. Let's get the line moving...and yes, I did make the Parsian Chicken Pasta. Made for All You Can Cook Buffet--Special Event Tag.