PaulaG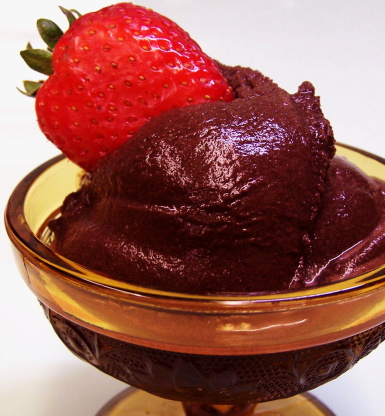 A sublime rich tasting creamy chocolate sorbet which is dairy free. I had it in a very expensive restaurant in Spain where it was served with a very intensively vanilla ice cream and it was to die for. In fact the whole meal was to die for - and we nearly did when the bill arrived!8

This is a wonderful treat. Very deep, intense chocolate flavor. I added 1/4 tsp of instant espresso powder and 1/4 tsp of ground cayenne pepper to jazz it up! It came out great and was very easy. I stirred every hour and a half or so and it came out smooth, creamy, and delicious.
Cooking time is freezing time.
Combine all but vanilla in a saucepan.
Heat on medium, stirring frequently, until the mixture reaches a boil.
Turn off heat, and stir in vanilla.
Chill.
You can either put in an ice cream maker or not.
If you do not have one then stir the mixture 2 or 3 times whilst it is freezing.
(I do not have one and it is still fantastic).