Rita1652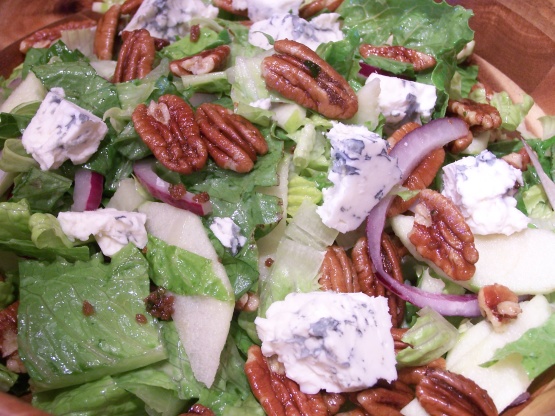 Let me Tempt you with this Flavorful Low Fat Healthy Salad that will hit the spot leaving your belly and taste buds satisfied. EVE can't resist this APPLE! Refreshing Salad topped with Apple, Sweet and Spicy Pecans, Salty Feta, and lightly coated with just the right amount of Creamy Tangy dressing. Paradise Salad's from your Garden of Eden where all good things grow! Jubilate!! The only thing That falls here is weight! Serve with Beaujolais, Sauvignon Blanc, or New World Pinot Noir.

I am giving this recipe 5 stars but I did find that I had to add just about a teaspoon of raw honey to the dressing to make it a little less tart. But everything else went together in the most awesome way. I had fresh home grown figs and apple, plus real farmer's market feta and lettuce. I had to sub out the pecans cause I was out and just threw a few pine nuts on top instead
Nut:.
Coat pecan with melted butter; combine sugar, salt and minced jalapeño; sprinkle over pecans, tossing to coat. Spread on a baking sheet; bake at 325 degrees F for 15 minutes, stirring occasionally. Cool.
Dressing:.
Whisk all ingredients together till thick and creamy.
Salad:.
In a large bowl combine greens, apple and onion slices; toss to coat with 2 tablespoons of dressing.
Place in a serving bowl, top with cheese, raisins or figs and pecans. Pour remaining dressing on top. Serve immediately.