Papua New Guinea Baked Sweet Potatoes
MomLuvs6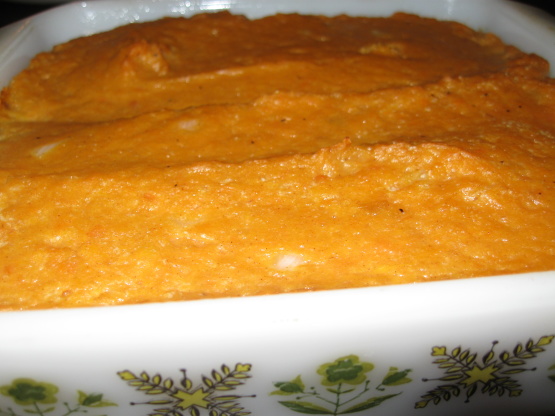 a lovely variation! submitted for ZWT7. this starts with cooked sweet potatoes. you can microwave, bake or boil them. this is not included in the cooking time.

YOU had me at sweet. Then you add potato, butter, cinnamon, mixed into a delicious mash. Well, as I said, you had me at "sweet". This should be YOUR go to recipe for the holidays, vacations, days-off, well, any-darn-time. Thanks for posting such a swoon-lovely recipe, elmotoo! xoxoxo.
After mashing the cooked sweet potato, mix in the butter, onion, milk, cinnamon, salt and pepper to taste.
Separate the egg whites from the yolks.
Beat them separately. Fold the egg yolks into the mashed potato followed by the egg whites.
Place mixture in a greased baking dish.
Brush the top with butter and bake in the oven with the dish placed in a pan of water for 30 to 35 minutes at 325°F.