Evie3234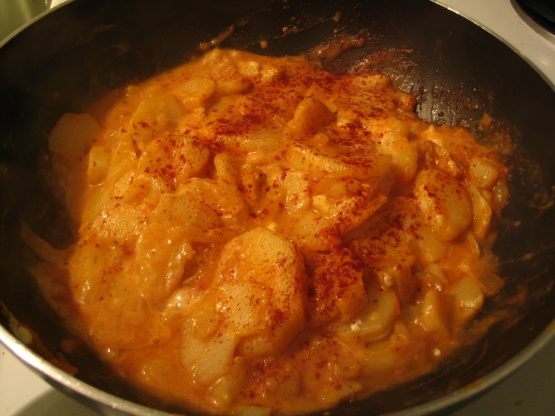 These were so yummy! I used a can of diced tomatoes and a sweet onion, and this was fabulous! My company had 3 LARGE helping of this! Thanks so much for a great side dish!!
Boil potatoes in salted water for about 8 minutes or until they are about to soften.
Drain and slice into 1/4 inch slices.
Heat oil in a large saucepan and fry the onion over medium heat for about 4-5 minutes, add the paprika, chicken stock, tomato and pepper.
Stir well and add the potatoes, stirring carefully.
Bring slowly to the boil, cover the pan and simmer for 20-25 minutes.
(The potatoes should have absorbed most of the liquid) Pour over the sour cream and allow to just heat through.
Put in to a warmed serving dish, sprinkle with the extra paprika to garnish.