ImPat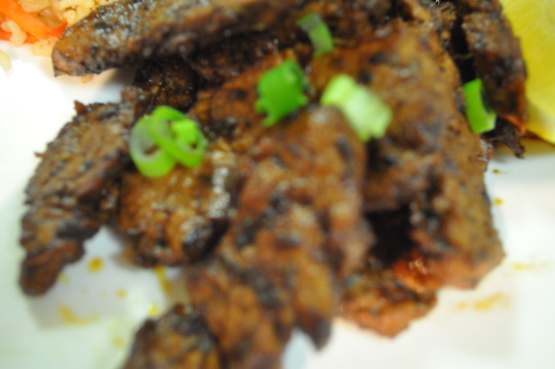 Lovely simple pork-dish. Adapted from a James Martin recipe, he used 1 tablespoon of salt and to my taste that was far too much, but feel free to add more! I use a mix of sweet and hot smoked paprika powder. Marinating time not included

I used this on boneless pork chops and cooked them on the grill. They were fantastic! I didn't get any juices, however I didn't need any. I used 2 teaspoons of salt and it was perfect. I think that this would also be excellent on chicken. I can't wait to try it.
Mix all the spices with the olive oil, you should get a thick paste.
Rub this on the pork, put the pork in a plastic bag and marinate in the fridge, minimal 4 hours but preferably overnight.
To be on the safe side, put the pork in the bag in a dish, once my bag leaked and the fridge was orange!
Remove from the fridge 30 minutes before cooking, there will be juices now in the bag, you can use them for basting if you want.
Heat up a grill pan, no oil, and fry 7 to 8 minutes on each side, longer if you want the pork more well done, it will also depend on the thickness of the pork.
Cut in diagonal slices and serve with the lemon.
This also very nice done on the barbeque.
You can cut down on the cooking time by cutting the meat in slices before cooking.