Honni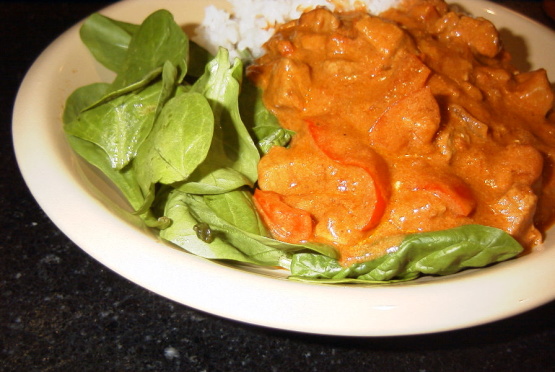 A wonderful, stick to the ribs stew that takes on an "old world" taste from the paprika and seasonings.

We all really enjoyed this meal. I made a couple changes - not major. I used a can of diced tomatoes-not exactly great tomatoes this time of year- and I used sour cream in favor of yogurt.Also added a bit extra paprika.I think next time I'll serve it with rice though.(had it with egg dumpling noodles) Then that great sauce will get soaked up nicely. Thanks!
In a heavy skillet over medium heat, saute the onions for 5 minutes in the oil Add the pork and saute until browned.
Mix in chili powder, garlic, and paprika and cook for 2 or 3 minutes more while stirring and scraping up bits from the bottom.
Sprinkle the flour over the mixture and stir in; cook another 2 or 3 minutes.
Stir in chicken broth a little at a time; mix well.
Stir in tomatoes, puree, and red pepper.
Cover and simmer gently until the meat is cooked through, about 1 to 1 1/2 hours.
Stir occasionally.
Pour about 1/2 cup of cooking liquid into a bowl and mix yogurt in well.
Remove pork mixture from the head and add yogurt mixture; stir to combine.
Season to taste with the salt and pepper and heat through without boiling.
Serve with rice or noodles.